Our mission is to enable you to align your business in compliance with the data governance policies while evaluating the best way to meet the specific requirements of this digital, information age.
Data Privacy Services
Prepare your business to meet the strongest data privacy law. Formulate strategy from down to the data level, identify gaps, vulnerabilities and establish compliance roadmaps.
Privacy Impact Assessment (PIA)
With our workshop based PIA consulting services, we help you understand the privacy dimension of your data. The data is assessed against an applicable criterion along with their impact on your organization's privacy of current and future operations.
Data Privacy Design Assessment:
We implement the privacy by design concept, to ensure privacy protection is embedded in business processes, physical design, networked infrastructure, information technology, etc. With this, we support your project life cycle and enable wider adoption of technologies.
Data flow mapping :
Helping you identify and move over the risks associated with data collection, transfer, and storage and achieving a transparent information system
Gap assessment :
Analyzing the company's data protection strategy to identify the evident gaps, breach risks against the implied privacy regulations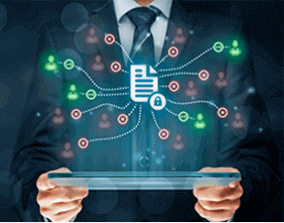 Data Privacy Impact Assessment:
Analyzing your organization's technical measures and determining how complex or detrimental the identified gaps can be
Website Compliance Scanning :
We help you identify if your website adheres to the key regulatory requirements including EU GDPR, ePrivacy standards, and more, and if visitors are aptly informed about cookies and tracking technologies applied on your website.
Universal Consent and Preference Management :
Integrating it into your existing marketing and IT systems to manage entire consent lifecycle (consent collection from web forms, mobile apps, email, phone calls, paper forms, in person, or even videos)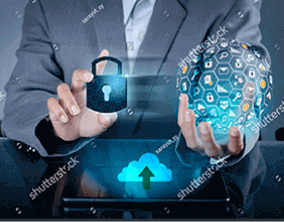 Privacy Strategy and Implementation
Planning and strategizing a cultural shift to bridge the identified gaps, prioritizing the changes to be implemented, introducing new data process method and minimizing the data protection risks involved in the project
Data Management Solutions :
Implementing data privacy strategies for data as relevant to business for actionable insights and informed decision-making
Data analytics As a service :
Analyzing the data to predict your customers behavior and design privacy and personal data compliant solution to address actionable insights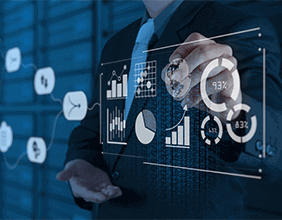 Data Breach Notification and Incident Management
Apply a proactive approach for effective security monitoring and compliance. Eliminate the evolving threats hovering over your sensitive data and resolve database security incidents.
Streamlined Breach Investigation :
Identifying data authenticity, generating quick responses, extracting report and scaling it to generate detailed reports to keep track of breach response process
Minimized Failures :
Preparing your organization for unexpected failures, controlling the severity, and not letting the service operations hampered to ensure a minimum impact of an incident
Third Party and Vendor Management
Monitor and manage engagement with vendors and external parties, and identifying who has data access to developing auditing & compliance program and managing contracts to report and remediate risk.
Business Justification :
Meet regulatory mandates and ethical obligation, reduce costly operational failures and data breach costs along with vendor bankruptcy.
Four RMs (Risk-Measurement, Management, Monitoring and Response-Management) :
Get a standard mechanism to measure risks, manage and monitor them to respond timely from vendors, customers, joint ventures, counter parties or fourth parties.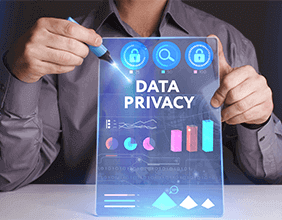 Data Protection
With the help of our experts meet the needs of ever-changing threat and regulatory landscape. Shield your enterprise sensitive data from internal and external damage. Secure visible data availability, and minimize the risk of data loss.

Data Protection Audit
Evaluating the data flow within your business and identify gaps, vulnerabilities to potential threats, and whether your current IT security system need modifications in policies or standards to assure data quality, security, and consistency

Data Security Architecture
Encrypting and protecting data at rest and motion, we facilitate secure deployment of services with various security layers starting from hardware infrastructure to operational security

Data Security Implementation
We specialize in unifying your security system with planning, implementation, verification and integration of right technologies to secure sensitive data against unauthorized access.
Data Encryption :
We offer several ways to encrypt data, both while in storage, and while in transit over the network. Our broad range of data encryption services include data access policies, sophisticated encryption and event monitoring, and more, that together protect the data workloads irrespective of where it resides.
Threat protection implementation :
Protecting application against security threats to secure mobile and web applications from malicious attacks such as XSS Attack, SQL injection, CSRF, Null byte attack, and DDoS
GDPR Consulting services
Keep your business aligned with the latest General Data Protection Regulations (GDPR) with the help of our experts. We let you strengthen your privacy protection, achieve compliance and drive business benefits. Starting from GDPR evaluation to roadmap development and meeting privacy concerns of the market, we cover it all for you.
Robust data governance policies in accordance with business to qualify personal data
Assess, store and safeguard personal data of EU people irrespective of the location
Global data breach response to authorities within 72 hours of the incident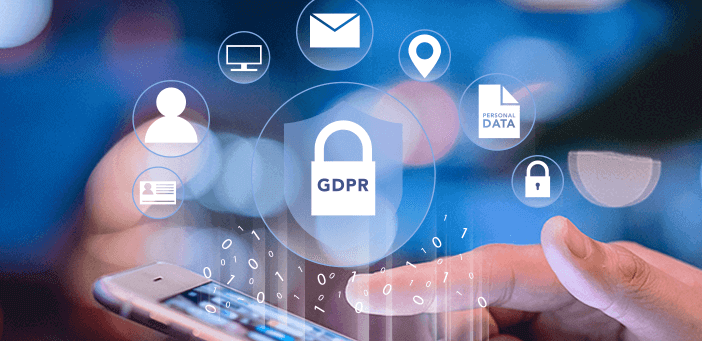 Data Protection and Privacy on Cloud
In the scope of GDPR and DPPA, we assist you to set an advanced cloud security architecture and ensure your data is secure on cloud. We help you to protect business and customers data and recommend the adept cloud service providers as required.
Achieve scale, maximize privacy and maintain a secure environment with our AWS cloud security. Build a cost-effective, secure cloud ecosystem across business verticals on AWS platform.
AWS Key Management Service : Easily manage the encrypted data unique key to validate the authentic user access.
Amazon Cognito : Manage multiple user profile, access control to applications and keep track of users login information.
Amazon Cloud Directory : Create directory, build applications, scale infrastructure and organize hierarchy of data across multiple dimensions.
AWS Identity and Access Management (IAM): Secure your business environment by authenticating users and enabling a common identity across on-premise and cloud-based applications.
Amazon Guard Duty: Identify potential threats and unauthorized elements for a secure business workloads and operation.
Store large and heavy unstructured data sets and avail services for networking, storage, machine learning, big data, Internet of Things (IoT), and cloud management, etc.
Google Compute Engine : Workloads are easily managed and kept secure as it is encrypted at all levels. The stored data on cloud is also in encrypted form, thus ensuring the highest level of security.
Google App Engine : With App Engine Firewall capabilities, Identity and Access management and managed TSL/SSL certificates, we protect your applications from security threats.
Google Container Engine : Also known as Google Kubernetes Engine is quick to set up and eveready for production. It works seamlessly across GCP and has high interoperability. As it is a part of the Google network, high security is ensured to keep the data safe and secure.
We help you leverage the power of Microsoft Azure that provides layers of security to your cloud workloads with built-in features. Azure brings you a range of security options with in-depth defense strategy to keep hosts, data, and networks secure.
Security Center : Provides advanced threat protection for workloads in cloud and on-premises.
Key Vault : Keeps the cryptographic keys and other secrets used by cloud apps and services protected.
Azure DDoS Protection : Provides protection from denial of service requests.
Azure Information Protection : Secure all the sensitive data, emails or documents that you share outside your company.
Application Gateway : A built-in web application firewall to protect web applications from regular vulnerabilities.
Give your business the cover of end-to-end cloud security services powered by IBM. We help you implement IBM's cloud security services in your company to provide maximum threat protection 24x7.
Cloud Identity Services : With cloud delivered Single Sign-On (SSO), multi factor authentication, and identity governance we help secure your user productivity.
Cloud Security Managed Services : Get a robust security solution for your cloud environment with integrated security technologies, global threat intelligence, vulnerability research and security professionals to distinguish between usual and unusual attacks.
Cloud Security Strategy : Secure your path to cloud with a service designed to guide your journey — from assessment to priorities to a robust roadmap.
Intelligent Log Management : Gain threat insights for your hybrid IT environments with a simplified security and compliance management.
Threat Insight Platform : Look through the process to identify and manage the threats that pose the greatest risk to your business and address them.
Managed Web Defense : Safeguard your web presence with a robust solution to combat distributed denial-of-service (DDoS) attacks.
Security Intelligence and Operations Consulting Services : Get a new, mature, intelligence driven operations across all environments or have the existing one assessed against the best practices in security and get it revamped for improved performance.
Ready to innovate ? Let's get in touch
Oodles | Data Protection Services